About the company
LTD "AKM Trans" is a growing company in Latvia, which employs people with 18 years of experience in road transport, and is a subsidiary of one of the leading road transport companies in the Baltic States, LTD "Sadarbība", which was founded in 1992.
LTD "AKM Trans" the fleet consists mainly of Volvo, MB Actros - Kaesbohrer, RIMO truck carriers - equipment whose technical capabilities allow loading 10-11 passenger cars. Our company employs professional drivers with many years of experience working with truck carriers, which guarantees high-quality and fast loading and unloading of cars.
The main directions of the company's activity are European, Russian, Scandinavian and CIS countries.
SIA AKM Trans services:
Transportation of cars from/to European Union countries, Scandinavia, Baltic and CIS countries
Delivery of cars from the manufacturer or warehouse to the customer
Insurance of transported cars using TIR Carnett and CMR insurance
Document processing
Management of complete transportation processes
Route calculation by Map&; Guide professional, Googlemaps and Auto route 2010
Pre-sale preparation of cars
Warehousing services
Contacts
Want to get in touch with you? Fill out the form.
Contact form
Reviews
Keywords
Car transportation
,
Car transportation with trailers
,
Transportation of cars
,
Auto transportēšana no Eiropas
,
car transportation from Belgium
,
Car transportation with trailer
,
Car trailer repair
,
Car transportation in trailers
,
Car bringing in trailers from Europe
,
Car delivery in trailers from Belgium
.
Transportation of cars, car transportation with car trailers( trailers), auto transporter, auto transporter, road haulage services, passenger cars and minibuses transportation, ( transportation, bringing, movement) car transportation in trailers( in trailers) . Car transport, delivery, delivery, transportation, car towing truck,
Car transportation from / to abroad. From / to Europe, ( Germany, Switzerland, Austria, Belgium, Holland, Italy, Poland, Czech Republic, Slovakia, England, France, Spain, Belgium, Latvia, Lithuania, Estonia, Russia, Belarus, Ukraine, Moldavia, NVS) . Car transportation and logistics in Europe, car transportation and logistics in Scandinavia and the Baltic States,
Car transport from Germany, Switzerland, Austria, Dutch, Italian, Poland, Czech Republic, Slovakia, England, France, Spain, Belgium. Car storage in a guarded territory, car preparation before sale, car storage in Belgium, Germany, In Latvia, car trailer repair, car service, truck repair service, truck repair, truck service.
More...
Legal information
Excellent legal status The company has no legal burdens on its operations.
Registration certificate number 40103219741
Legal address Kaudzīšu iela 58, Rumbula, Stopiņu pag., Ropažu nov., LV-2121
Submitted of annual reports 2021
More
Officials, Owners, Turnover, Profits, Commercial Pledges, Collateral, Contacts, etc. current, historical information.
More
Current balance, profit and loss calculation, cash flow, etc. applications, if available (scanned / EDS format)
Piegādā unikāli plašas un ātras satura meklēšanas iespējas konsolidētā juridisko un faktisko uzņēmumu datu bāzē.
Location
Article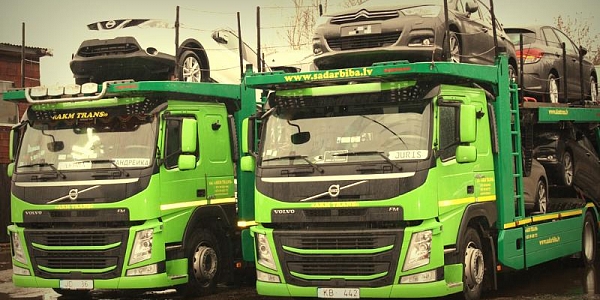 Automašīnu transportēšana var būt nepieciešama dažādās situācijās: iegādāta jauna automašīna, jāpārved savs, ģimenes vai darba auto. Ja automašīna ir iegādāta izsolēs, dīleru centros vai autosalonos, ir jāveic visa apmaksa un jānosūta visa nepieciešamā informācija, kas vajadzīga automašīnu tirgotājiem, un tikai tad automašīnu transportēšana var noritēt veiksmīgi. 
Related resources