Description
Hotel Jūrmala Spa is a modern resort where you can enjoy unforgettable relaxation, escape from everyday stress and bustle, and inspire for new ideas. Hotel Jūrmala Spa is a 4-star hotel and its main business areas are health promotion, conference organization, accommodation and catering. It is located in the very heart of Jurmala on Jomas street and only a few hundred meters from the golden beach of the Gulf of Riga. Guests can enjoy comfortable rooms, the Restaurant Jūrmala and Seaside bar with great views over Jurmala and the sea. Wellness Oasis has 3 swimming pools and 6 different saunas, where you can enjoy the summer holidays all year round. Time for a real relaxation at Hotel Jūrmala Spa!
Contacts
Want to get in touch with you? Fill out the form.
Contact form
Categories
Keywords
Hotel
,
Hotels
,
Hotel in Jurmala
.
Jurmala, outside Riga, by the sea. Congress and seminar facilities.
Hotel, gym, saunas, sauna, jacuzzi, bubble baths, pools, bath-house,
baths, finnish bathhouse, salt bath-house, aromatic bath-house, steam bath,
SPA, SPA center, massages, water procedures, beauty care, hair-dressing saloon,
solarium, cosmetologist, make-up, manicure, pedicure. Conference
hall for seminars for up to 600 people, conferences, conference center,
seminars, seminar organization. Rooms for rent, banquets. Wedding celebrations.
Rest, overnight stay, tourism, sports, hotel in Jurmala. Restaurant,
bar, summer terrace. Event organization, attributes.
More...
Legal information
Excellent legal status The company has no legal burdens on its operations.
Registration certificate number 40003694427
Legal address Jūrmala, Jomas iela 47/49, LV-2015
Submitted of annual reports 2018
More
Officials, Owners, Turnover, Profits, Commercial Pledges, Collateral, Contacts, etc. current, historical information.
More
Current balance, profit and loss calculation, cash flow, etc. applications, if available (scanned / EDS format)
Piegādā unikāli plašas un ātras satura meklēšanas iespējas konsolidētā juridisko un faktisko uzņēmumu datu bāzē.
Creditinfo
Location
Video
Article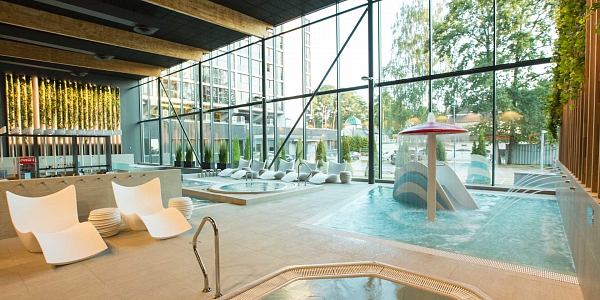 Rīga, 7.sept., LETA. Par diviem miljoniem eiro atjaunots saunu un baseinu centrs Jūrmalā "Wellnes Oasis", aģentūru LETA informēja "Hotel Jūrmala SPA" pārstāve Agnese Grundberga.