About company
Niedrumajas.lv. Ecological roofs! We offer roofing services! We carry out works with a high sense of responsibility, qualitatively and in short terms. We offer our services in roofing using ecological materials. Such as canes, tiles, green roofs, shingles or chips, and also we offer roofs for gazebos, create decorative details for the roof decks. Roofing materials, canes and shingles are also offered.
Specialists in roofing
Our employees are highly qualified specialists with a lot of work experience in roofer work, as evidenced by the certificates obtained in the craftsmanship. Our skills and knowledge allows to complete all your orders within the specified time and in high quality.
Contacts
Want to get in touch with you? Fill out the form.
Contact form
Categories
Keywords
Roofer works
,
Shingle roofs
,
Roof coatings
,
Thatched roofs
.
Roofer works, roofing, construction, Roof of cedar, shale, tile, foliage,
green roofs, roof endings, Materials for cane, chipboard shingles,
Reed, tiles, shingles, shingles, gazebos, Different coverings, renovation,
restoration, consultations, covering and repair, roof installation,
renovation and repair, accessories, Cane sale, Concrete, clay tiles,
Green roof materials, Hewn shingles roofs, Roof signs, Valc profile roofing, laying,
soundproofing materials, landscape coverings, rafters, qualitative raw materials,
ecologically clean, lake and sea reeds, roof decors.
Roofer works Jugla
,
Roof coatings Jugla
,
Shingle roofs Jugla
,
Thatched roofs Jugla
More...
Legal information
Excellent legal status The company has no legal burdens on its operations.
Registration certificate number 44103090530
Legal address Beverīnas nov., Trikātas pag., "Robežnieki", LV-4731
Submitted of annual reports 2018
More
Officials, Owners, Turnover, Profits, Commercial Pledges, Collateral, Contacts, etc. current, historical information.
More
Current balance, profit and loss calculation, cash flow, etc. applications, if available (scanned / EDS format)
Piegādā unikāli plašas un ātras satura meklēšanas iespējas konsolidētā juridisko un faktisko uzņēmumu datu bāzē.
Creditinfo
Location
Article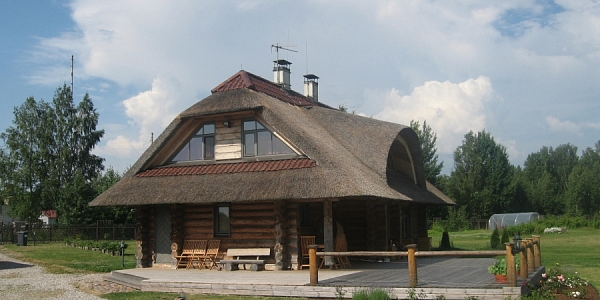 Niedru jumts ir tradicionāls un dabīgs jumta materiāls. Niedru jumta ilgmūžība ir pārbaudīta gadsimtu gaitā. Niedru jumts ir gan seguma materiāls, gan skaņas izolācijas materiāls, gan siltināšanas materiāls. Vasarā zem niedru jumta ir patīkami vēss.
Related resources