Contacts
Want to get in touch with you? Fill out the form.
Contact form
Categories
Keywords
Lift-trucks, lorry loaders, lifts, stackers, pilers, loading equipment sale,
warehouse equipment sale, rental, service, spare parts, Jungheinrich hand pallet truck,
electric pallet carts, hydraulic pallet trucks, pallet trucks, multi-direction forklifts,
Jungheinrich loaders, electric forklifts, gas forklifts, diesel forklifts,
industrial batteries, accumulator, accumulators, STOW pallet shelves,
metal goods shelves, archive shelves, archive shelves, stationary shelves,
mobile shelves, sliding shelves, console shelves, partition walls,
shelf marking, plastic storage boxes, shipping boxes, warehouse design,
loader repair, leasing, stackers, shelves, automatic handling equipment,
pallet storage, vending storage, storage of longitudinal goods, mezzanine,
lift type shelves, rotary type shelf systems, gravitation shelves,
shuttle-type channel shelves, entrance shelves, drive through shelves,
automatic warehouse, rack servicing cranes, RGB, unmanned transport systems,
freight transport equipment, marine, administration, truck driver training,
shelf test, oils, battery service, charger service, technical support,
original spare parts, logistics systems, warehouse equipment sale,
timber handling equipment, timber handling equipment, timber loading equipment,
new loading equipment sale, loading machinery, loader service, warehouse equipment,
warehouse equipment, forklifts, container loaders, new equipment for sale,
rental equipment, hydraulic carts, mechanical carts, accessories for tractors,
trailers, mechanical lifts, pallet trucks, pallet hoists, electric towing vehicles,
diesel forklifts, electric forklifts, side loaders, electric loaders,
forklifts, weight loaders, indoor forklifts, hydraulic loader, hydraulic crane,
reloading equipment, sweepers, communal equipment, minitractors,
mini tractors, minitractor, mini tractor, variable volume hydraulic pumps,
hydraulics, variable volume hydraulic motors, hydraulic distribution blocks,
turn reducers, hydrostatic variators, electronic control units, forks,
industrial tyres, post-warranty service, warranty, after warranty service,
service, for your own, various size forks, lifting equipment, construction machines,
loading, machinery and warehouse equipment sale, original parts,
original parts delivery, original parts sale, loaders, works in whole Latvia,
we work all over Latvia, machinery rental, rents machinery, rental of equipment,
little-used equipment sale, for diesel and gas trucks, for electric forklifts,
loader maintenance, forklifts for sale, loader trade, electronic lifts,
Loading and unloading equipment, gas forklifts, electric loaders,
cargo lifts, loader, transport trolleys, rokla, hydraulic warehouse carts,
stackers, stackers, stacker, stackers, loaders, warranty repair),
maintenance, repair, loader tyres, spare parts for loaders, spare
parts for diesel loaders, spare parts for gas loaders, spare parts for electric loaders,
lifting equipment, lifting equipment, unloading machinery, lifting equipment sale,
lifting equipment installation, lifting equipment installation, warehouse equipment sale,
warehouse equipment, warehouse equipment, warehouse carts, cargo trolleys,
hydraulic stacker, moving platforms, hydraulic carts, electric carts,
reach trucks.

More...
Business region
Ainaži, Aizkraukle, Aizpute, Aknīste, Aloja, Alūksne, Ape, Auce, Baldone, Baloži, Balvi, Bauska, Brocēni, Cesvaine, Cēsis, Dagda, Daugavpils, Dobele, Durbe, Grobiņa, Gulbene, Ikšķile, Ilūkste, Jaunjelgava, Jelgava, Jēkabpils, Jūrmala, Kalnciems, Kandava, Krāslava, Kuldīga, Kārsava, Lielvārde, Liepāja, Limbaži, Lubāna, Ludza, Līgatne, Līvāni, Madona, Mazsalaca, Ogre, Olaine, Piltene, Preiļi, Priekule, Pāvilosta, Pļaviņas, Rēzekne, Rīga, Rūjiena, Sabile, Salacgrīva, Salaspils, Saldus, Saulkrasti, Seda, Sigulda, Skrunda, Smiltene, Staicele, Stende, Strenči, Subate, Talsi, Tukums, Valdemārpils, Valga, Valga un apkārtne, Valgas rajons, Valka, Valmiera, Vangaži, Varakļāni, Ventspils, Viesīte, Viļaka, Viļāni, Zilupe, Ķegums, + in 498 parishes, + in 13 regions
Legal information
Excellent legal status The company has no legal burdens on its operations.
Registration certificate number 40003630479
Bank Account LV91RIKO0002013017836
Legal address Rīga, Rītausmas iela 23, LV-1058
Submitted of annual reports 2019
More
Officials, Owners, Turnover, Profits, Commercial Pledges, Collateral, Contacts, etc. current, historical information.
More
Current balance, profit and loss calculation, cash flow, etc. applications, if available (scanned / EDS format)
Piegādā unikāli plašas un ātras satura meklēšanas iespējas konsolidētā juridisko un faktisko uzņēmumu datu bāzē.
Creditinfo
Working time
Now closed
Sunday: holiday
Monday: 8:30-17:00
Tuesday: 8:30-17:00
Wednesday: 8:30-17:00
Thursday: 8:30-17:00
Friday: 8:30-17:00
Saturday: holiday
More...
Location
Article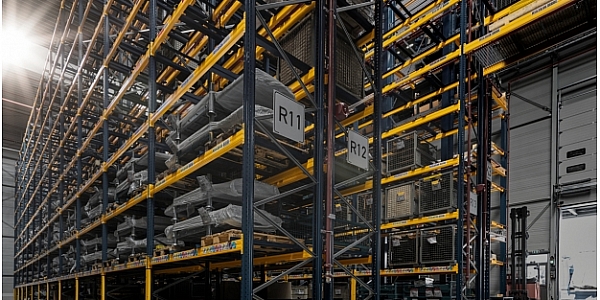 Plauktu sistēmas ir paredzētas optimālai preču pārkraušanas efektivitātei. Tās izmanto palešu, garenisku preču, kā arī statiskai un dinamiskai sīkpreču uzglabāšanai.