Quality for professionals
Ltd. "Profcentrs" is a company founded in 2008 whose main activity is construction and decorative material trade, including wholesale. The company delivers building materials and decoration materials to more than 200 trade places in Latvia, as well as carries out goods equipping for construction companies in the Baltic States and Scandinavia. Most of the "Profcentrs" company's employees have a great experience in building materials trade. Consequently, customers can receive comprehensive and professional advice on product usage nuances. Thinking about construction companies, builders and craftsmen convenience there have been created "Ceresitpro" centers in Riga and Liepaja.
Production
Tile adhesives, seam filler, facade materials, plasters, primers, paints, waterproofing materials, sealants
Mounting foams, sealants, adhesives, sealing materials, construction films, paints, mastics, foam guns, tools
Paint for walls and ceiling, paint for metal and wood, facade paints, primers, oils, varnishes and wood stains, fillings, sealants, adhesives, painter tools, painter clothes
Emulsion paints, paint for tinting, facade paints, varnishes, adhesives, primers, sealants, adhesives, putty, decorative plaster, wood surface treatment products
Ceiling tiles, foam moldings, decorative rosettes, insulation materials, glue
Dowels, plinth profiles, profiles, glass fiber nets, deformation bands
Polyurethane mounting foams, sealants
Chemistry for waterproofing, building chemistry for concrete, building chemistry for repair, construction chemistry for wood, products for sauna, linseed oil paint and stain
Our shops
Ventspils street 63a, Riga
Ganību Dambis 7a, Riga
Zemnieku 60, Liepaja




Contacts

Want to get in touch with you? Fill out the form.

Contact form

Linked companies

Reviews

Augstas kvalitātes būvmateriāli!

Additional information

Categories

Keywords

Colours varnishes building chemistry trade

,

Facade paints

.

Building material building structure trade

,

Insulation systems

,

Paint shop

.

Sale of construction materials

,

Building renovation

.

Sale of construction materials, building structure sale, building insulation,

paints, adhesives, sealants, construction foams, dry mixtures, tile glues,

facade insulation, insulation, decorative plaster, mineral plaster,

silicone plaster, mosaic-type plaster, sanitary silicone, flexible tile adhesive,

fast-hardening tile adhesive, floor leveling, waterproofing, balcony waterproofing,

terrace waterproofing, basement waterproofing, pool waterproofing,

mortar, adhesive mortar, filler, glue filler, assembly cement, tile seam,

self-leveling mortar for floors, bitumen membrane, bitumen emulsion,

bitumen mass, waterproof, mortar, two-component waterproofing, flexible sealing mortar,

polyurethane adhesive, silicate paint, silicone paint, facade paint,

acrylic paint, latex paint, primer, colour shading, plasterboard,

seam tape, paper tape, plaster tinting, glass fabric mesh, dowels,

CM11, CM17, CM22, CT17, CT54, CT 174, CT19, CT85, CT84, CT180, CT190,

Farm, ZU, ZKP, CX10, CX5, CX15, CR 65, CR90, CR166, CR61, CR62, CR64,

CO81, CD24, CD 25, CD26, CD30, CE 40, CE 43, CE44, CE80, shrinkage-compensated mortar,

renovation finish, liquid for injecting in wet walls, horizontal waterproofing,

epoxy paint, epoxy joints for tiles, chemically resistant tile adhesive,

facade profiles, painter brushes, paint roller, Bindo, Pinotex, Flugger,

Den BRAVEN, 3d walls, Ceresit, Ceresitpro, Makroflex, WINTEQ, wood protection products,

painting tools, putty, paints for facades, facade, paints for wall,

ceiling painting, paint for metal, paint for metal, and wood, interior design,

silicones, construction, assembly foam, acrylic sealants, construction materials,

tiles, house insulation, home insulation, wooden home insulation,

exterior wall insulation, facade wool, foundation insulation, roof insulation,

home insulation from the outside, facade tiles, facade insulation,

facade decoration plates, heat insulation, facade paint price, facade insulation costs,

finishing materials, facade finishing materials, exterior wall finishing materials,

ceiling painting, insulation wool, wall insulation, wood antiseptic,

paint for wood, wooden house insulation, home insulation with foam plastic,

paints for wood, insulation materials, construction work cost, facade decoration tiles,

insulation with foam plastic, facade finishing panels, reinforcing mesh,

work clothes, decorative sockets, anchors, ceiling tiles, internal profiles,

insulation materials, painter tools, profiles, foam plastic moldings,

wallpaper, cleaning products, Glue, PU foams, sealants, PU foam products,

linseed oil paints, wooden paint, concrete, repair, linseed oil for wood,

facade plates, acrylic paints, foam plastic ceiling tiles, facade finish,

tile price, wall insulation from the inside, decorative plaster,

home insulation with foam, wool insulation, dispersion paint for interior works,

dispersion paints for facades, primers, enamel, for wood surfaces,

fillers, plasterings, floor building, floor repair, silicone, structure anchoring,

assembly of constructions, priming, building insulation, tiling,

tile grouting, concrete repair.

Building material building structure trade Pleskodāle

,

Sale of construction materials Pleskodāle

,

Colours varnishes building chemistry trade Pleskodāle

,

Facade paints Pleskodāle

,

Building renovation Pleskodāle

More...

Legal information

Excellent legal status The company has no legal burdens on its operations.

Registration certificate number 50103188941

Legal address Rīga, Ventspils iela 63A, LV-1046

Submitted of annual reports 2019

More

Officials, Owners, Turnover, Profits, Commercial Pledges, Collateral, Contacts, etc. current, historical information.

More

Current balance, profit and loss calculation, cash flow, etc. applications, if available (scanned / EDS format)

Piegādā unikāli plašas un ātras satura meklēšanas iespējas konsolidētā juridisko un faktisko uzņēmumu datu bāzē.

Creditinfo
Working time
Now closed
Sunday: holiday
Monday: 9:00-18:00
Tuesday: 9:00-18:00
Wednesday: 9:00-18:00
Thursday: 9:00-18:00
Friday: 9:00-18:00
Saturday: holiday
More...
Location
Video
Article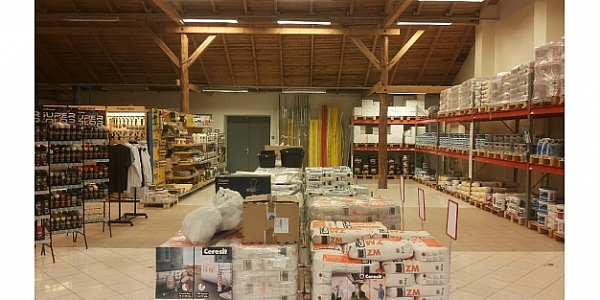 Ēku siltināšanas produkti palīdzes samazināt siltumenerģijas zaudējumus. Pareizi veikta siltumizolācija ēkas ārējām sienām var samazināt apkures izmaksas par aptuveni 30%, kā arī ļauj uzturēt māju siltu ziemā, bet vēsu vasarā.
Trademarks
Related resources